VMSCORE™
Video management as easy as a web browser
The next generation Security Video Management.

High level introduction:
Our software brand is VMSCORE™ which refers to both VMSCORE and VMSCORE+.
VMSCORE is the core of the system and manages the video storage, streaming and more. This VMSCORE can be installed at the camera site or on a remote location. The camera's need to be able and stream to this VMSCORE. The smallest application consist of one VMSCORE.
VMSCORE+ is a management service that mainly takes care of:
Fusion of one or more cores
Enhanced access control like permission groups, Active directory integration
Management of the whole system (including all cores)
Notifications (like camera status)
Both VMSCORE as well as VMSCORE+ have their own API.
 VMSCORE and VMSCORE+ can be installed on one machine. But VMSCORE+ could also be installed on a separate machine, on site or in a hosted server in the cloud. There is only one VMSCORE+ per system, managing one or unlimited VMSCORES.
VMSCORE™ is used by customers ranging from small business owners to some of the world's largest global retailers. Recognized for its reliability and ease of use, VMSCORE™ provides local and remote access to live and recorded video through an intuitive web browser interface, with the same user experience on both workstations and mobile devices.
The web interface is hosted by one or more VMSCORE servers running on traditional Windows or Linux systems, NAS storage devices, or on supported embedded hardware. VMSCORE™ supports over 4,500 IP cameras through the ONVIF Profile S specification. This cross-platform flexibility adapts to your existing infrastructure and reduces IT, hardware, and licensing costs.
VMSCORE boasts a simple, sophisticated interface that offers a rich, engaging user experience. In addition to camera auto-discovery and configuration. VMSCORE is priced per camera.
 VMSCORE+ provides a powerful VMS unification platform that offers the same ease of use and familiarity as the VMSCORE user interface, but extends the platform across unlimited locations, cameras, and users.
 VMSCORE is a lightweight, cross-platform video recording solution that can be distributed, using VMSCORE+, across an almost endless variety of servers and IoT devices. With that, VMSCORE+ adds the power of advanced management and aggregation capabilities.
 VMSCORE+ is hosted centrally within your organization. Alternatively, it can run on your or our Cloud hosted server. This gives ongoing flexibility to use VMSCORE™ as stand alone, full could or in a hybrid way.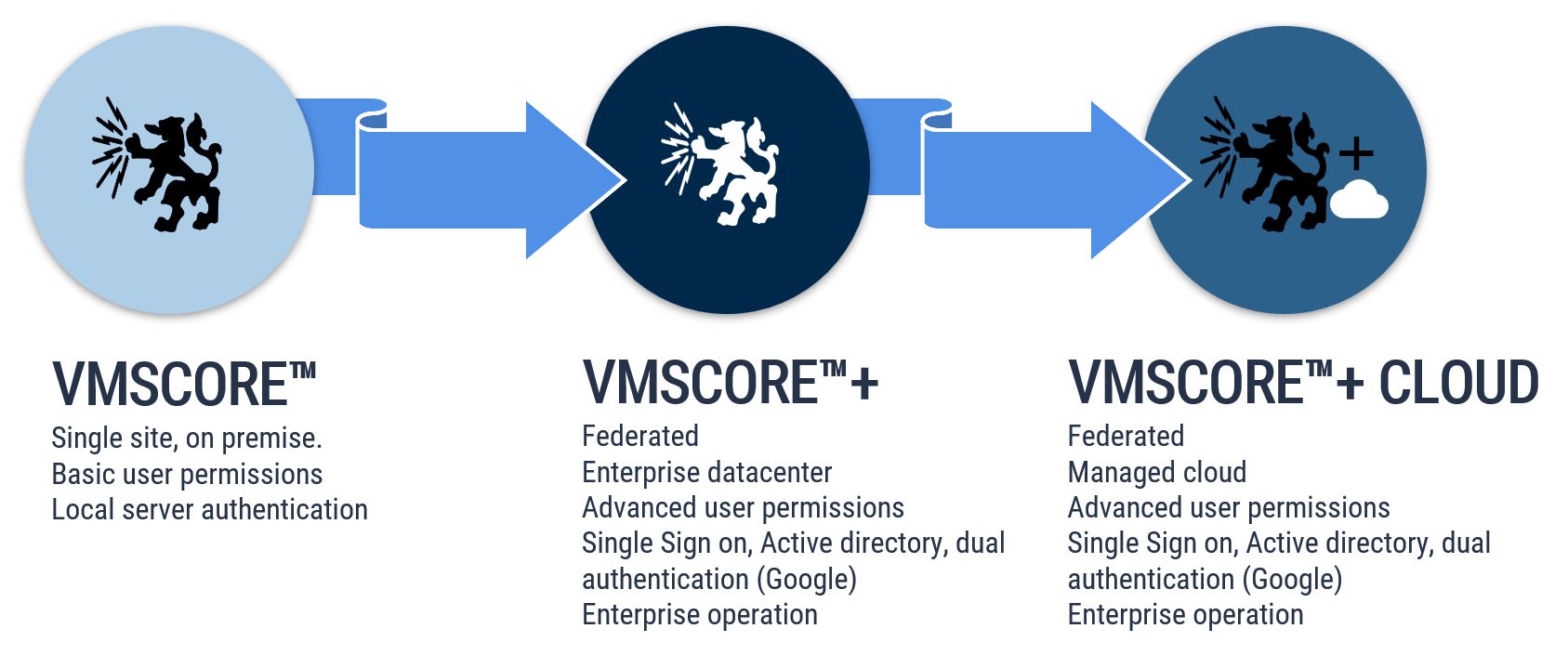 As a Java-based platform, VMSCORE+ can run on Windows desktop and Windows Server, Red Hat Linux Enterprise 7, Ubuntu 14.04, 16.04 or 18.04, CentOS 7, as well as a variety of Linux embedded devices.
 If VMSCORE+ can no longer communicate with any of your VMSCORE servers, VMSCORE operates autonomously and continues to record while remaining accessible via the standalone VMSCORE user interface.
 Using a secure reverse-proxy mechanism, VMSCORE+ provides configuration-free access to VMSCORE servers and cameras located behind a firewall, all via secure SRTP and HTTPS encryption. This allows system operators to connect VMSCORE instances with VMSCORE+ across diverse network topologies, removing the need for IT intervention or special configuration.


"Browsing through recorded footage is super fast. Download clips in seconds with just a few mouse clicks. All images are in Sync with super scrollable timeline. This is done with only a web browser."

"VMSCORE™ offers ongoing flexibility to cultivate the positives of EDGE operation while benefitting cloud advantages where relevant. The end user decides whether to work fully edged, full cloud based or in a hybrid way."

"VMSCORE™ is scalable from 1 to unlimited cameras. The license structure is very simple, no fee per user, lan, system, only per camera. And you remain fully flexible using this license."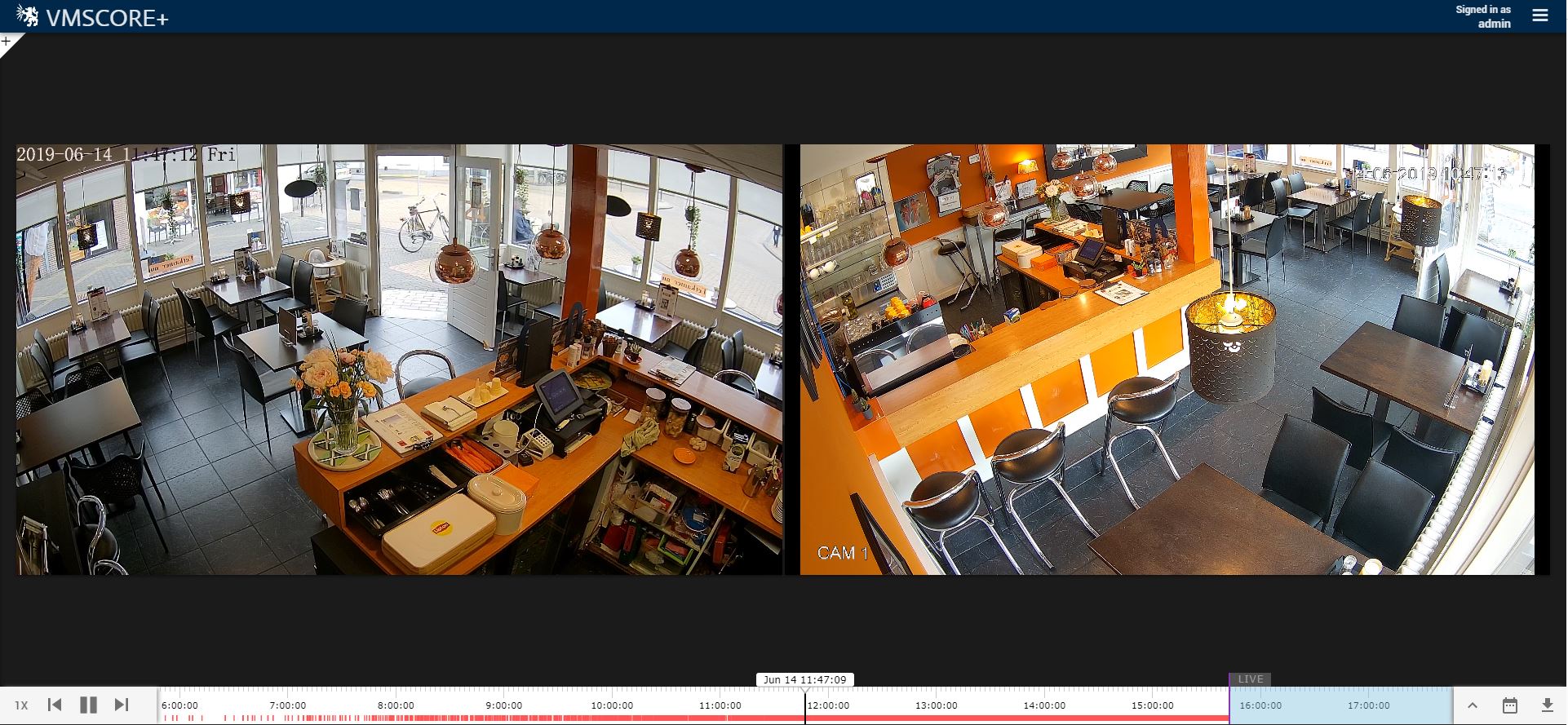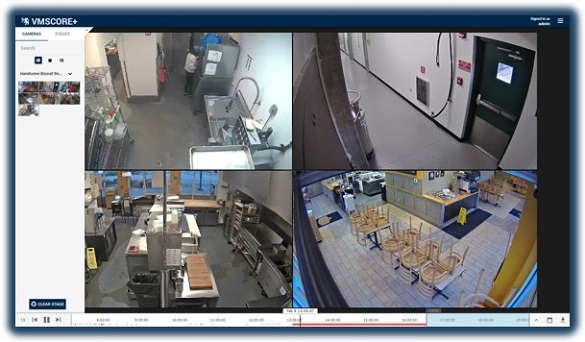 Video Management appreciated by IT professionals.
VMSCORE™ is newly developed with 15 years of experience in the IP Video market. Full adoption of the newest IT standards, technology and full REST API makes it a differentiator in the world of IP Video.
Contact
Phone: +31 (0)85-7734104
Address:  Hofstraat 4, 7071 KB, Ulft, the Netherlands